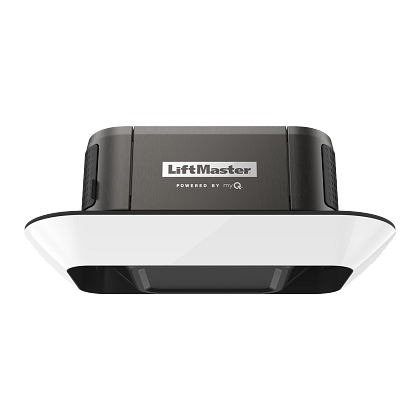 LiftMaster Chain Drive - 87802 Heavy Duty Chain Drive Smart Opener with LED Corner to Corner Lighting™ and Battery Backup
LiftMaster Chain Drive - 87802 Heavy Duty Chain Drive Smart Opener with LED Corner to Corner Lighting™ and Battery Backup

Our strongest motor and i-beam rail system to lift the heaviest doors.
Battery Backup allows you to open/close your door even when the power is out.
Built-in Wi-Fi® allows for smartphone control with the myQ® app.
Power
Heavy duty chain drive lifts the heaviest garage doors.
Control, secure and monitor the garage with the myQ® app anytime, from anywhere.
360° light ring uniformly brightens every corner of the garage with 2,000 lumens of long-lasting LED light.
Battery backup lets you get in and out when the power is down.
Works with Amazon Key for for convenient and secure In-Garage Delivery of Amazon packages and groceries.
Safety and Security
Secure Code: Confidently know that every click sends a secure code to the garage door opener.
Safety Sensors: Protect people and vehicles with safety sensors that stop the door from closing on obstructions.
Virtually Impenetrable: Make the garage virtually impenetrable by adding the Automatic Garage Door Lock.
Bright Garage: Walk into a bright garage with motion-detection lighting.
Automatically Protect: Automatically protect against forced openings of the garage door. 
Useful Links
- LiftMaster Model 87802 Product Guide
- LiftMaster Model 87802 Installation Guide